News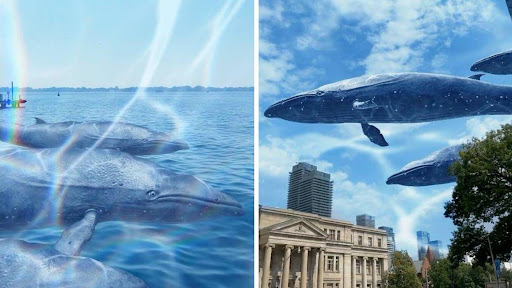 You'll be blown away!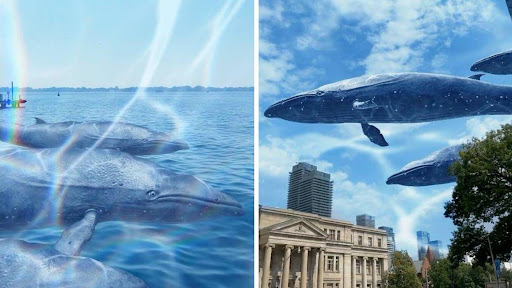 The ROM | Handout, The ROM | Handout
It's a bird, it's a plane, it's a... blue whale? As strange as it may seem, giant whales are swimming through Toronto's sky and you can summon them from your phone.
The virtual whales are part of a campaign for the Royal Ontario Museum's new exhibit, Great Whales: Up Close and Personal, which is running until March 20, 2022, and features giant skeletons and more.
To bring awareness to the exhibit, the ROM has launched an augmented reality experience where you can bring the massive creatures to life using Snapchat.
The whales will appear at two locations: outside of the ROM on Bloor Street as well as the downtown waterfront. All you have to do is scan one of the Snapcodes on site to see the whales swimming across your screen.
You can snap a selfie with the whales no matter where you are by scanning the Snapcode on the exhibition website.
Forsyth,M. (2021, December 20). Blue Whales Are Swimming Through Toronto's Skies & You Can Even Snap A Selfie With Them. Narcity Toronto.
https://www.narcity.com/toronto/the-rom-has-virtual-whales-in-toronto--you-can-snap-a-selfie-with-them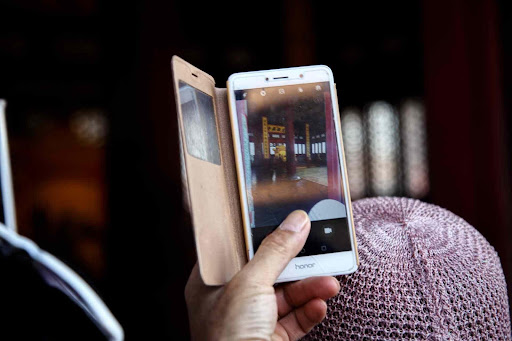 As you walk through corridors full of history and culture, your cell phone can be used for more than just taking souvenir photos. Augmented reality in museums generates new cultural and touristic experiences that make these essential precincts for conserving and exhibiting our heritage more attractive.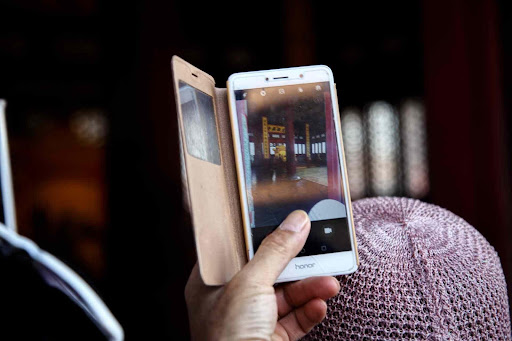 We show you the possibilities augmented reality offers to museums in a particular journey through a digitized and avant-garde legacy.
Advantages
The essential advantages that augmented reality brings to this sector are the following:
The museum experience becomes more immersive and participatory.

It is inexpensive to reproduce in 3D pieces, paintings, historical explanations, vehicles, and buildings…

They adapt the museum visit to each user. The elements are 'hidden' for those who do not wish to execute them with their cell phone.

It brings new ways of transmitting the

cultural heritage

of museums to society.

It attracts visitors who are not used to museums and would not traditionally visit them.
Uses of augmented reality in museums
Among the uses of augmented reality in museums, an essential one is to provide complementary information to the exhibits. Users point their phones at the works of art, and text, a virtual guide, or an animated experience is displayed in front of them. This allows them to not depend on a guided tour and to design a personalized visit.
Another option is complementing the increasingly popular immersive experiences with more active user participation. That is, while 3D images and sounds unfold around them, people use their cell phones to complement the activity with other animations on their cell phones.
This gives museums the possibility of gamifying the rooms, for example, with an app that 'sends' to 'hunt' some works, as if it were a Pokémon Go.
In addition, if users have to download an augmented reality app, it can send notifications to users about other pieces to visit in the museum or events that will take place in the next few minutes inside the venue. It could also send offers or ask for a review of the experience.
The type of museum and its user (or the user you want to attract) are the conditions to consider when establishing an augmented reality strategy. Here are some examples of augmented reality in museums (from classic art galleries to spaces dedicated to natural history), buildings, and immersive experiences.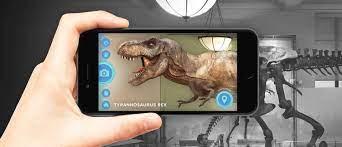 National Gallery
One of the world's best-known museums, based in London, took some of its works to the streets so they could be viewed through an augmented reality app. The results appeared before users' eyes by scanning a QR code in certain places.
National Museum of Natural History
This museum in Washington, D.C. houses numerous animal skeletons. Augmented reality allows viewing real creatures by simply projecting them from a phone or tablet. Children and adults can learn not only about their bones but also about their external appearance and movements.
Jose.Blanco. (2022, December 28). Augmented reality in museums: advantages and uses - Evergine. Evergine. https://evergine.com/augmented-reality-museums/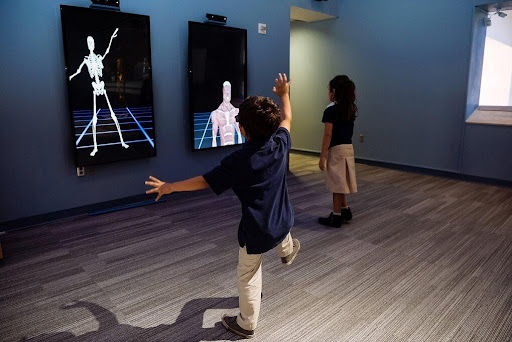 1. Attract more visitors.
Particularly, the new generation. AR technologies can attract people and encourage them to visit museums and galleries because you provide a completely new experience of learning, which is also a lot more entertaining than before.
2. Bring exhibitions to life.
Resurrect ancient animals and famous historical characters. If you have an exhibition dedicated to prehistoric creatures, wouldn't it engage the viewers more if they could see not only the remains but a specimen brought back to life.
3. Provide play-and-learn experience.
Give your visitors a chance to hunt, scavenge and explore with a Pokémon Go-like application. It is a highly engaging way to learn many things about animals and plants native to a particular area.
4. Renovate the place.
Get rid of all those wooden panels and labels with hard-to-read texts that cannot cover all the aspects of an exhibit. You cannot crack open an antique radio just to show how it works. But, using an augmented reality app, building an animated 3D model is a piece of cake.
5. Let them see how it was before.
Recreate historical events and structures. Let your visitors see how a city or its part evolved throughout history. Augmented reality can allow them to see things that have long been gone.
6. Keep them posted.
Inform people. Using the location-based AR features, you can send various notifications to people with your app. Are they leaving or walking by? Why not inform them about the events you're going to hold in the future?
7. Make regular updates to maintain interest.
What can you do with that old sword in the showcase? You could leave it there and hope that more people would like to come and look at it. But, with the help of augmented reality, you can come up with new ways of interaction on a regular basis. That will help you bring back those who had already been to your museum or gallery.
Ultimately, each of those ways works as an attraction booster because you appeal to that part of the audience that places entertainment above many other things and would not probably visit your "standard" type of museum.
Also, by updating your AR application from time to time, you can increase the flow of the visitors even more.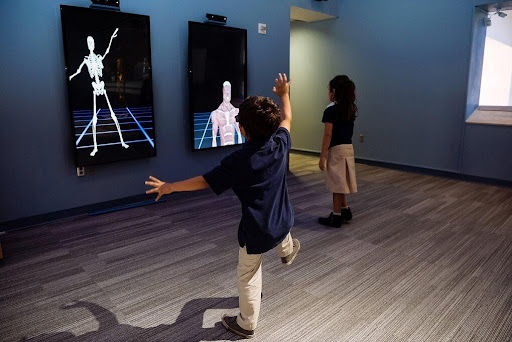 Source: https://jasoren.com/how-to-use-augmented-reality-in-museums-examples-and-use-cases/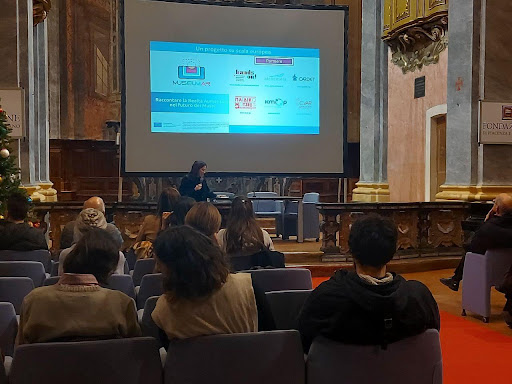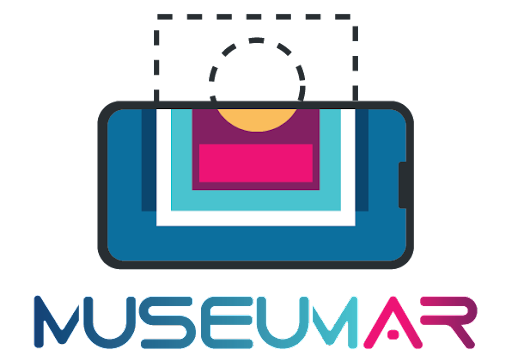 Alchemilla presents the work carried out to bring New Generation closer to local museums thanks to the project "Museum-AR: enhancing museum visitors' experiences through the use of AR and VR technologies" Realised with an ERASMUS+ contribution and with the precious collaboration of the Museo Internazionale della Calzatura and the Museo del Tesoro del Duomo 
Vigevano 05.12.2022 - The "New Generations at the Museum" meeting was held today at the Auditorium San Dionigi to illustrate the work developed by Alchemilla, an innovative startup with a social vocation and a research laboratory specialized in pedagogical topics, to bring children, girls, and boys closer to local museums.
The project saw the collaboration of the Museo del Tesoro del Duomo di Vigevano (MTD) and the Museo Internazionale della Calzatura (MIC), which have designed a nice new way to bring the new generations closer to culture: an interactive exploration of the secrets hidden in the collection's Tapestries. The workshop proposes a model that combines the physical with the digital (physical + digital) designed specifically for boys and girls, who will be invited to experiment not only as users of cultural content but also authors of it. Through the mobile app (iOS and Android) and the imaginary narration by Bishop Caramuel (MTD) and Beatrice d'Este (MIC), an innovative discovery experience dedicated to boys and girls visiting the Museum has been generated. 
The "MuseumAR" project aims to increase museums' competence in creating innovative paths of participation and museum fruition for the younger generations, promoting museums as places of culture to be discovered thanks to the use of digital technologies. "MuseumAR" combines art, play and digital in a synergy between museums, families and schools that promotes the social role of the new generations and brings them closer to museum institutions in an active and participative way.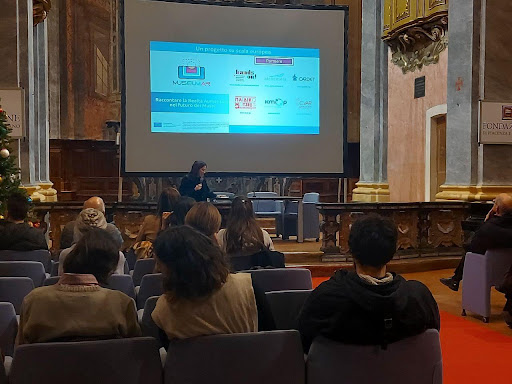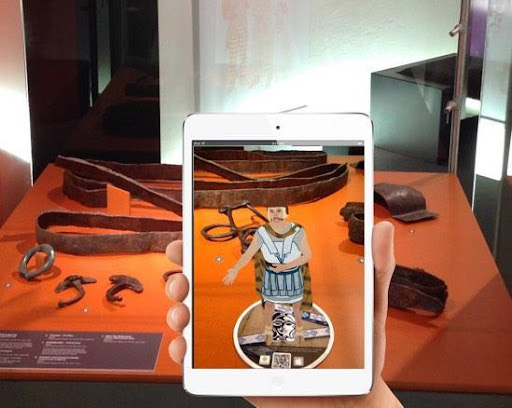 Posted by Efstratios Geronikolakis | Nov 30, 2017 | Technologies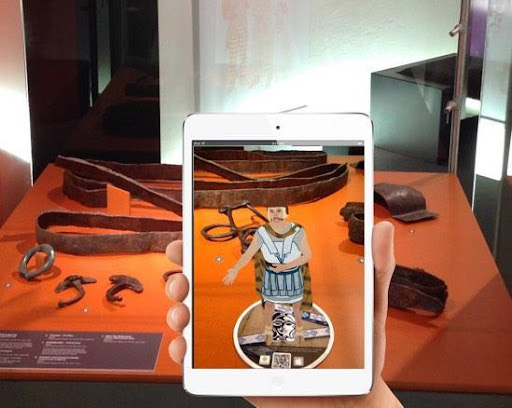 A mobile application called "The Speaking Celt" is a companion to the visitors of the Museum of Celtic Heritage in Salzburg. Every time that the visitors scan a target, which is a round image that tells the visitor that there is additional content within a display case to discover, an augmented Celt appears, serving as a museum guide. The Celt tells stories about his way of living, explains elements of the museum and engage with visitors in an interactive way.
The museum also rents out headphones for free, for the visitors to use while they are in the museum. To use the application, headphones are required.
 This could be useful in Thematic Area 4 of the ViMM project, because it uses augmented reality, which is a great tool to bring history to life. With the help of augmented reality and the augmented virtual curator, visitors can learn more about the Celtic Heritage in a fun and interesting way. The augmented virtual curator tells stories about his way of living and explains different elements of the museum, which belongs to the storytelling sector. Also, the fact that the augmented virtual curator is in the same room with the visitors and the fact that they can see him through their device, gives them the feeling of presence. Finally, the fact that the visitors have to find these round targets in order for the augmented virtual curator to appear, belongs to the gamification sector.
Source: https://www.wikitude.com/showcase/speaking-celt-museum-experience/
Geronikolakis, Ef.( 2017, Nov 30) A Celtic Museum Experience using Augmented Reality, Virtual Multimodal Museum +