News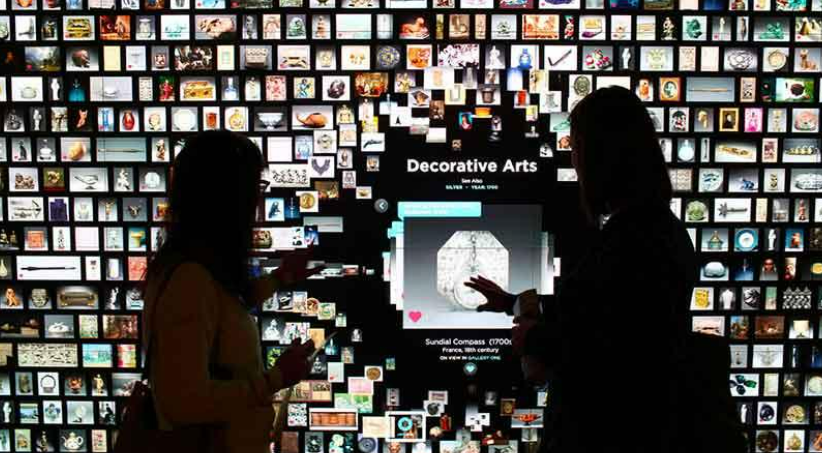 Over the past two decades, technology has cemented itself as one of the most important aspects of modern society.
From where we stand today it's almost impossible to imagine a life unaided by digital devices, the Internet or computing tools. From business and leisure to communication and information, our reliance on technology is all consuming in almost every aspect of daily life, changing the way we see and interact with the world.
Yet there are still those who think technology has no place in the museum.
This is perhaps understandable in certain circumstances where the museum environment represents a safe haven from the hustle and bustle of modern living; a place to reconnect with more human behaviours and experiences. However, in 2020 there are too many instances of technology serving to enrich the museum experience for us to ignore its potential.
We're going to take a closer look at the relationship between technology and museums, exploring how some of the world's leading cultural institutions are using innovative digital solutions in order to heighten the visitor experience.
Prado: technology and the museum experience
The likes of augmented reality (AR) and virtual reality (VR) are being used by institutions around the world to make history feel more present both inside and outside the museum space.
In 2019, the Prado Museum in Madrid introduced its first innovative 360-degree immersive experience. This project allowed users to get closer than ever before to the artworks and artefacts held in the institution.
This VR experience was made possible through collaboration between the museum and four leading digital platforms: Patron 2.0, Feeel, 3intech and Krill Audio. Speaking about the exhibition, Marta Tabernero from Patron 2.0 said:
"With this 360-degree experience, we can immerse ourselves in the Prado, discovering time and traveling in time. We are doing what has been done in cinema, using creativity and emotion […] It is a work of translating a cultural space into a contemporary language in order to bring it closer to new audiences."
Far from acting as a distraction, technology can be used to bring people closer to the artefacts and history a museum exhibit is exploring.
Bringing people to the museum
But what about bringing people closer to the museum itself? In the US, gallery spaces receive 850 million visitors per year, which is more than most sports venues. According to the American Alliance of Museums, this represents around $21 billion in economic activity.
Technology can act as a useful conversation starter and marketing tool in the right hands. Sometimes, an attention-grabbing gimmick – not a word held in high regard, but useful nonetheless – is necessary to encourage people to experience the depths of what a museum has to offer.
When the National Museum of Singapore launched its "Story of the Forest" exhibition, it offered visitors a chance to step into another world with colourful projections and breath-taking displays. And with the help of a smartphone app, visitors could also access detailed information about the animated creatures leaping among the illuminated trees.
Science Museum, London
Back in 2017, visitors to London's famous Science Museum were able to immerse themselves in one of the greatest milestones in UK space travel. Through the use of VR, visitors could be part of a mission that re-enacted the European Space Agency's first British astronaut Tim Peake's 400km journey back to planet Earth.
The exhibition included a 12-minute video experience narrated by Peake himself, featuring a view inside the Soyuz space capsule. It's hard to imagine how an exhibition that didn't use technology could have brought the viewer as close to the experience as this VR mission offered.
Metropolitan Museum of Art, New York
Sometimes, the use of technology in a museum is less about being innovative and more about being accessible. A couple of years ago, the Metropolitan Museum of Art in New York made the decision to digitalise over 380,000 images from its collection. The aim? To make its art more accessible to the masses.
For people without the means or ability to visit the museum for themselves, this was invaluable. It's now possible for people to explore many of the museum's most famous pieces from the comfort of their own home. Not only does this create a sense of goodwill with the museum, but it also helps it reach a much wider audience.
Speaking about the decision at the time, the museum said:
"To make the Museum as accessible as possible, we need to ensure that the collection exists in those online locations where people already go for doses of creativity, knowledge, and ideas… This policy change to Open Access is an exciting milestone in the Met's digital evolution, and a strong statement about increasing access to the collection and how best to fulfil the Museum's mission in the digital age."
Source: Richardson, J. (2021, April 9). How technology is bringing museums back to life. MuseumNext. https://www.museumnext.com/article/how-technology-is-bringing-museums-back-to-life/