A brilliant new exhibition, coinciding with the third anniversary of the fire, traverses 850 years of glory and tragedy
Clouds of smoke billow over the gothic buttresses that flank the cathedral of Notre Dame in Paris. Flames lick hungrily at the spire. It is 7.30pm on April 15th 2019, the night an inferno engulfed one of Catholicism's most important cathedrals. On her tablet, your correspondent swipes forward half an hour. At 8pm soot and cinders fill the sky, along with the blare of emergency sirens. But the fire engines arrived too late to save the flèche, constructed by Eugène Viollet-le-Duc in the 19th century, where the fire raged at around 1,200°C. The spire thunders into the roof of the 12th-century building. Even three years after the conflagration, a 3d rendering of its collapse is powerful. 
A new exhibition running simultaneously in Paris and Washington uses augmented reality to vividly recreate that night. The efforts of around 400 firefighters succeeded in preserving most of the national landmark; there was no loss of life. The draw of "Notre-Dame de Paris: the Augmented Exhibition" is its ability to place the tragedy in 850 years of history. This is thanks to a nifty piece of software developed by Histovery, a French startup that masterminded the exhibition. 
A tablet called a HistoPad functions as a miniature time portal. By scanning the gadget at different stands in the exhibition, visitors can explore 21 key moments in Notre Dame's existence. The viewer sees the laying of the first stone in 1163; watches King Louis IX's digital avatar carry the Crown of Thorns into the cathedral in 1241; jumps inside Jacques-Louis David's painting of Napoléon Bonaparte's coronation in 1804; and enjoys a 360-degree view of the current reconstruction project, which remains faithful to the original design and is due to be completed in 2024.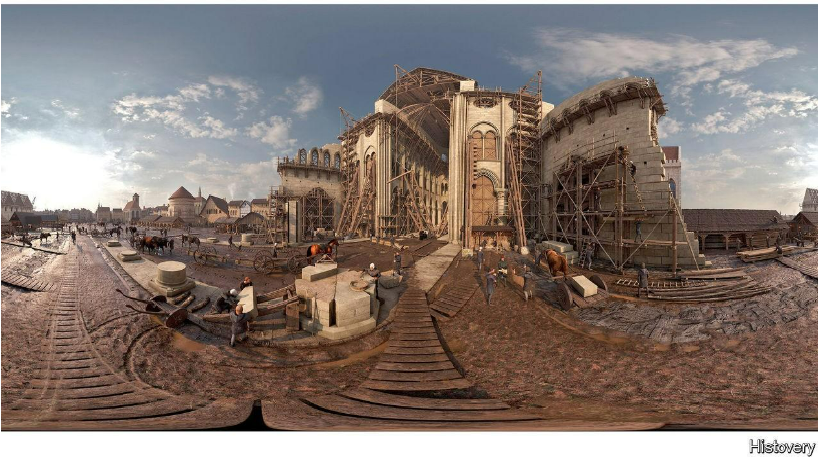 The historical breadth and attention to detail is remarkable. Over two years Histovery worked with film-makers, 3d-artists, architects, historians and scientists to piece together nearly a millennium of history. The idea is to offer something more immersive and more modern than many traditional exhibitions. "We have to find other ways to bring culture to the people; to propose new digital experiences," says Bruno de Sa Moreira, the outfit's co-founder and ceo.
What he calls an "augmented visitor experience" turns a trip to the cathedral, albeit virtual, into something closer to a video game. On screen, pop-ups reveal nuggets of history and each scene has its own soundtrack. A virtual treasure hunt for the panels of one of Notre Dame's exquisite Rose windows keeps children entertained. The interactive element is key, explains Edouard Lussan, Histovery's other co-founder and director of production. "This is why we think we are going to catch a much younger audience…a church could be difficult for younger people to engage with." Augmented reality appeals to a wider audience than virtual reality, which often involves an isolating, clunky headset and, for some users, feelings of nausea. 
The exhibition is free to visit thanks to sponsorship from L'Oréal Group, a beauty behemoth. Businesses such as L'Oréal and their billionaire owners (who pledged vast sums of money in the wake of the fire) were criticised by many on the left in France and elsewhere for their willingness to act on behalf of ancient buildings but not when it came to pressing social concerns such as the environment or poverty. Such arguments do not hold much water, however. Besides the economic rationale—Notre Dame attracts 13m visitors every year—the cathedral is a symbol for French people and Catholics around the world. Around €80m ($87m) of the roughly €850m that has been donated to the reconstruction efforts have come from small gifts. 
Exhibitions such as this one will no doubt become more common. Augmented reality has potential to transform the way people engage with historical sites: picture reclining with Romans in Pompeii or staring at the lions and lapis lazuli blue of the Gates of Babylon in Iraq. The technology is already being implemented in museums and galleries around the world. Seeing history on a screen or projected in 3d, though, may not be to everyone's liking. What about those who prefer to fill in the gaps with their imagination? "We're here to serve the experience, not replace it," says Mr Lussan.
"Notre-Dame de Paris: the Augmented Exhibition" continues at the Collège des Bernardins in Paris and the National Building Museum in Washington, DC. It will open at Palais im Grossen Garten in Dresden from August 5th and Shanghai later in 2022
Source: The Economist. (2022, April 14). The history of Notre Dame cathedral, in augmented reality. https://www.economist.com/culture/2022/04/14/the-history-of-notre-dame-cathedral-in-augmented-reality